2011 Gator Pictures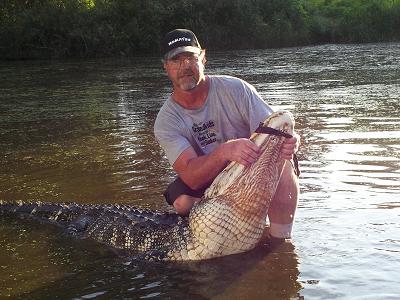 8/15/11 The season started Monday night. Lake Hancock was different this year. It was good and light when we started hunting. We had not been out long when we hooked took the first gator off the lake. Jim had his first tag filled with this gator that was over ten and the sun was not even close to being down yet. Dropped him off at the ramp and was right back out after a few quick pictures.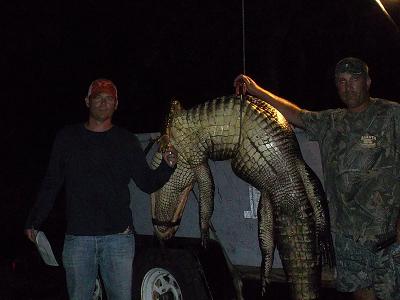 8/15/11 After looking at a number of gators that did not fit what Corey was looking for we took this one that measured 10'2". One night out and two gators over 10 feet.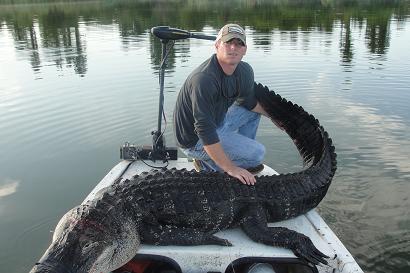 8/17/11 Went out for a quick morning hunt with Corey. After watching a number of gators for a while we tracked this one down and hooked him. He did not go down easy. I got a good rope burn when I hooked him with a 14/0 on the rope. We got two harpoons in him before Corey took him out with the bangstick. This gator was a stud for 10'8".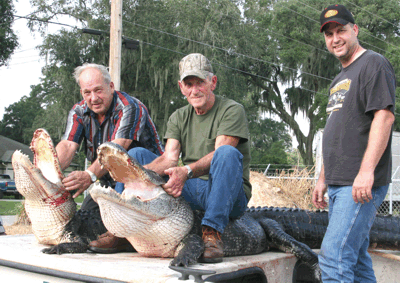 8/27/11 Mark Beck and family took the first gator 45 minutes after we left the ramp. It came in at 10ft 2in. It took us a little over two hours before Marks dad put a crossbow bolt through the 8ft 2in gator.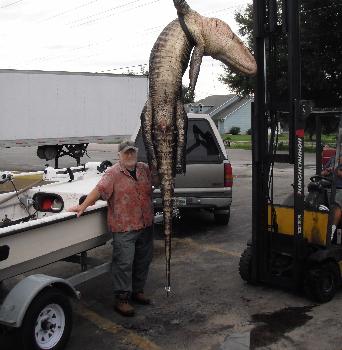 9/4/11 Had gone out one night to scout a Polk County lake and saw a few good gators. Had one break us off when he went fifteen feet back in the trees. Two days later we went out for a morning hunt. Pre dawn was slow. Gators were not real active. Come dawn we were watching a few gators as the fishermen were starting to move about. This one stood out and we gave him a try. He broke off a few hooks during the battle but we finally brought him up with the 14/0 on the rope. Dale did a great job of mimicking the swamp people moves. At one point I thought he was going to pull him right into the boat. Sure was glad to see a forklift available to pull him out of the boat. We knew he was good but finally had him laying flat to put a tape on him. He came in at 12' 1.5". Two days earlier people were on the lake on wave runners and this one was in sight of the boat ramp.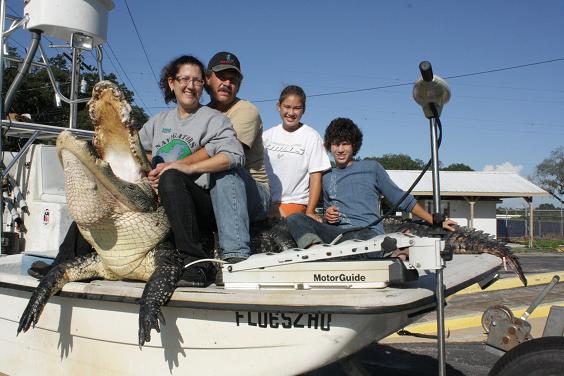 9/24/11 Took the whole family out for a morning hunt on Lake Hancock. Kicked up this gator and he gave us the slip. We were blind casting in the area he disapeared while we were waiting for the sun to come up. Just before we took off to chase another gator George snagged him. The alligator did not even move. We got another rod and hook into him and was finally able to bring him up. There was no question about him when this head came up. Belinda put a dart deep in him with the spear gun. The first bangstick did not keep him from giving us the eye, so we hit him one more time. The chore of getting him in the boat was the hardest part. When we got him to the cooler we were able to get him measured. He was 12' 2" and fat.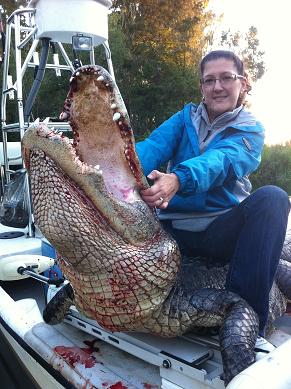 10/21/11 Suzie had one more tag to fill and we went out right after work to take advantage of some daylight. This nice gator disturbed the water as we went by in the boat. We turned the boat around and in short time William had him hooked. He ran for the open lake and then turned around and burried himself in the weeds. We worked hard to sort it all out but managed to come up winning the side. His body was much larger than his head. He came in at 10' 4".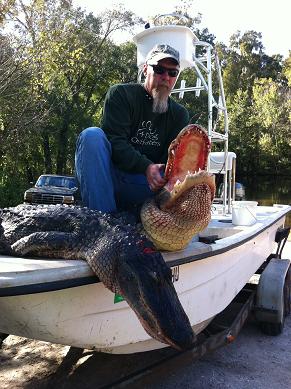 10/22/11 We had taken Keith and his son out a few times and had not managed to find any good gators that would offer themselves up. In this morning Mason was not able to get up and come. We were able to finish out both of his gators within 15 minutes of each other and had just a few minutes to spare before the morning hunt was over. They measured 9' 5" and 8' bobtail.