2009 Gator Pictures
8/21/09 Two gators taken from Lake Hancock by brother and sister team Jason and Georgea.  Large one is 11' 8" and the smaller one is 9'.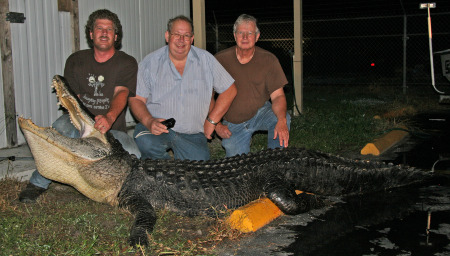 8/22/09 Next night and another 11' 8" gator from Hancock but this one had a few inches missing from the end of the tail.  This was Tim's first time gator hunting and will be hard to top..  Drop the gator off and go back for more.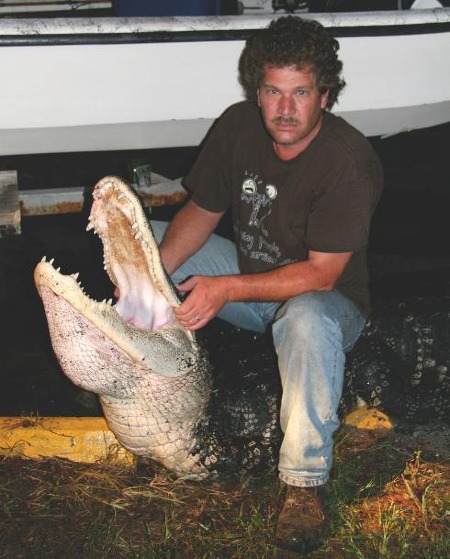 8/22/09 Second on of the night was 10',  Four down for the group and thirty eight to go!  Not a bad start.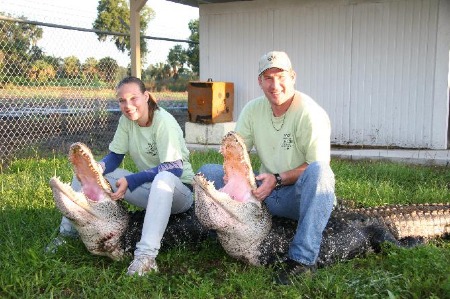 8/28/09 Went out to Lake Hancock to fill Richard's tags with his daughter Victoria.  She tried to film the fist one.  We will see how it turned out. She said it might be a little shaky.  We got a 9' 3" and a 9' 8".  It was a special night that was highlighted with the shuttle going off.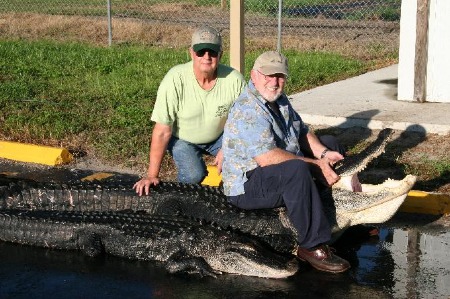 8/29/09 Saturday night and another set of tags filled.  Dale had Polk County tags and we went to an old pit and took a 10' 8" and 8' 8".  He did not harpoon the 10' 8" gator the first time we brought it up.  He was not sure if it was big enough.  We were questioning taking the 8' 8" but we still have lots of tags to fill and one more done.

9/6/09 This one was 11' 4" out of Lake Hatchineha.  Did not see many gators during the night but this one was up moving around at sunrise.  Snatched him and had to work quick to get him in before quitting time.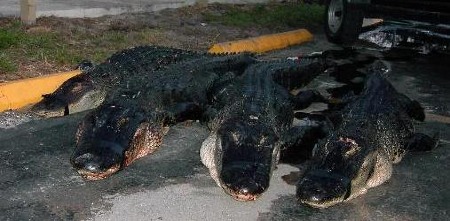 9/10/09 Hell N Blazes did not burn us last night.  We had four tags for this week and did it in one night.  Went out with Glen on his airboat last night and what a ride. All these pics have been at his place, G&S Melons in Plant City.  This is a drop off place for All American gator processor.  The gators were 8' 6", 10', 10' 6" and 10' 7".  We still have tags for here that were valid in earlier weeks and will have to wait till Saturday to come back.  An experienced hunter sure can produce.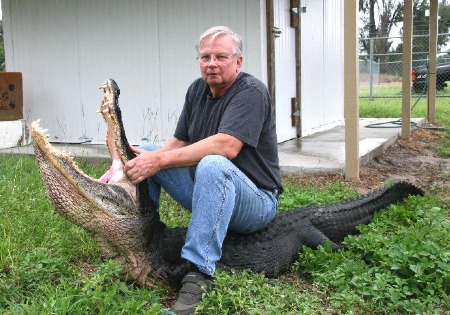 9/12/09 Early morning on the way back to the ramp on Lake Hell N Blazes this 10' 8" gator gave us a last chance opportunity.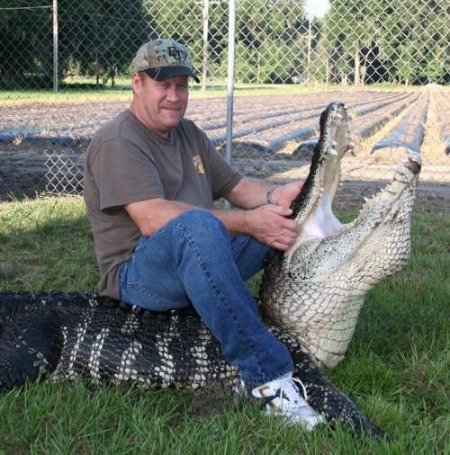 09/19/09 We had Roger from NC down to hunt with us. After a night of running and gunning on Lake Hell 'N Blazes and getting two 8 footers the night before.  The first time gator hunter spent the night hunting with us for a big one and we came up with this 11 footer right at the break of day.  This gator had his lower jaw broke in half in the front and holes in his head and jaw.  I would have liked to run into the big boy that whiped this one.

9/25/09  We were soaking baits, watching a gator closing in on one of them, when we get a phone call from a friend.  He said he is alone and has a monster on and needs help, so we wind up our bait lines and head to the opposite end of the lake.  We get there and help Jim pull in his monster, it turns out to be 8ft 9inches but has one leg missing and about two feet of tail missing.  The measurement from nose to eye was 11inches so this one should have been about 11ft.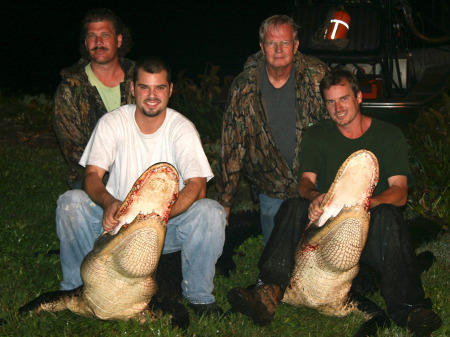 10/12/09  Mike's first gator hunt produces two nice 10 footers from Lake Hell N Blazes.