Toggle Dart with Muzzy screw on tip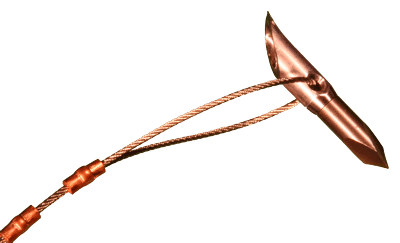 This is the same style tip that has serverd us so well in the past. We have replaced the taper point with a hardened Muzzy tip. It will stay very sharp even after much use. If you ever need to replace the screw on tip you can.
This is a 3/8" diamater stainless steel dart ready to fit on a 1/4" push pin mounted on stainless steel aircraft cable. Side hole for cable is counter sinked so the cable does not wear on a sharp edge. It also helps keeping the cable from hanging up if you are trying to drive the dart through the scoots of the gator.
The back side of the dart is flared out. When you harpoon a gator the dart and push pin go into the gator. In order for the dart to turn in the gator the harpoon pole needs to seperate from the dart. The flared out edge catches and keeps the dart in while the pole comes out.
The overall length of the cable is 18". All cables are double crimped. One crimp would be enough but we use one to keep the sharp edges of the cable from sticking out.