G&B Double Trouble tip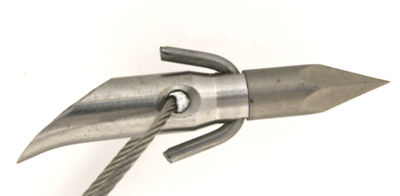 We have continued to develop and test. This dart has been being used for several years by us and several guides, It has been devistatiing on the gators.
This is a 3/8" diamater stainless steel dart ready to fit on a 1/4" push pin mounted on stainless steel aircraft cable. Side hole for cable is counter sinked so the cable does not wear on a sharp edge. It also helps keeping the cable from hanging up if you are trying to drive the dart through the scoots of the gator.
The front side has a Muzzy screw on tip followed up by a short set of barbs that take bite even on some weak hits. The back side of the dart is flared out. When you get the whole dart in the gator it turns sideways and is there to stay till the knife comes out. In 2013 one of our friends hurled the harpoon about ten yards at a gator when he came up and the dart stuck in his nostril. A dart is very hard to remove from there!
The overall length of the cable is 18". All cables are double crimped.